07 Sep

How teachers can help society by understanding social responsibility in new generation
The concept of social development lies in the concept of socialization. It involves learning the values, knowledge, and skills that enable children to relate to others effectively and to contribute in positive ways to family, school and the community. To understand that, we have to understand socialization at the time of his birth, a child is very selfish.
Social development most often refers to how a child develops friendships and other relationships, as well how a child handles conflict with peers.
Teachers are arguably the most important members of our society. They give children purpose, set them up for success as citizens of our world, and inspire in them a drive to do well and succeed in life. The children of today are the leaders of tomorrow, and teachers are that critical point that makes a child ready for their future.
It is a teacher's responsibility to provide a nurturing and welcoming learning environment for all students, and to take seriously the position of influence that she is in. A teacher can influence what her students talk about, how they think and what they become. Social responsibility demands that a teacher not only cares about actual students; but also, must understand and prepare them and show them how fit into future community.
Great teachers have the ability to change lives for the better.
 Teachers can act as a support system that is lacking elsewhere in students' lives. They can be a role model and an inspiration to go further and to dream bigger. They hold students accountable for their successes and failures and good teachers won't let their talented students get away with not living up to their full potential.
Teachers of all walks of life and subjects have the ability to shape opinions and help form ideas about society, life and personal goals. Teachers can also expand students' limits and push their creativity.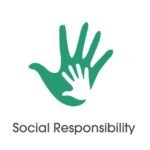 Therefore, the social responsibility of teachers' emphasis on how:
To create leadership development opportunities for students and to foster a commitment to social and civic responsibility.
To enhance the employability of graduates by providing opportunities to build a strong resume and to explore career goals.
To promote learning both for students and for community members.
To play a role in creating capacity in the community to work on complex societal problems.
To design a more effective way for the campus to contribute to economic and community development.
To build support for public investment in higher education, both to provide access and opportunity for students of all backgrounds to pursue an education and to generate knowledge that will address critical societal needs.
Scholarship of Discovery: contributes to the human stock of knowledge and to the intellectual climate of a college or university.
Scholarship of Integration: makes connections across the disciplines, placing the specialties in larger context—often educating non specialists.
Challenging encounters with important issues
Prepares students to be intentional learners who can adapt to new environments, integrate knowledge from different sources and continue to learn throughout their lives
Prepares graduates who will be intentional, empowered, informed and responsible.
Open up boundaries and stimulate the exchange of ideas using some of the strategies of learning organizations:
Celebrate the diversity of the school community. Recognize all of the intellectual levels of the students and allow them to participate in the community.
Create school democracies that have real power. Allow student governments to make recommendations to parents and school leadership groups.
15.Encourage students to make small changes through group action.
Conclusion:
Why are teachers important? Teachers truly are the backbone of society. They are role models to children, offer guidance and dedication and give young people the power of education. Because of teachers, countries are able to further develop socially and economically. Next time you or your community achieve something great, take a moment to think of and be grateful for the teachers who made it possible.